Baylys Beach accommodation
Experience Northland's wild west coast in comfort!
Our accommodation in the village of Baylys Beach offers six guest suites with luxurious beds and modern furniture. It's comfort, which our reviews frequently acknowledge. The upper three suites at Sunset View Lodge have outstanding views over the Tasman Sea to the horizon, where a favourite way to relax is to sip a glass of wine while watching the sun set.
Rates are charged per room for double or single occupancy.
There is a limit of two guests per room except for the Seashells Suite which has two singles and a rollaway if needed for three single beds.
A rollaway bed can be used also in the Shipwreck Suite and Tasman Suite.
We offer our guests a free continental breakfast and free Wi-Fi. The swimming pool is always open for a soothing swim in resort-like conditions.
The pool area also offers a BBQ for guest use, a large outdoor dining table and chairs, and loungers for a perfect relaxing afternoon.
All rooms have clock/radio, hairdryer, heater, cooling fans and free Wi-Fi.
There is also a Guest Lounge/Dining Room, where continental breakfast is a buffet self-service. The guests may also use this room anytime for the use of the library, watching DVD's on the big screen TV, board/card games, or simply socialising with other guests.
We offer the following options for that perfect business trip, wedding night or relaxing getaway:
TOP FLOOR SUITES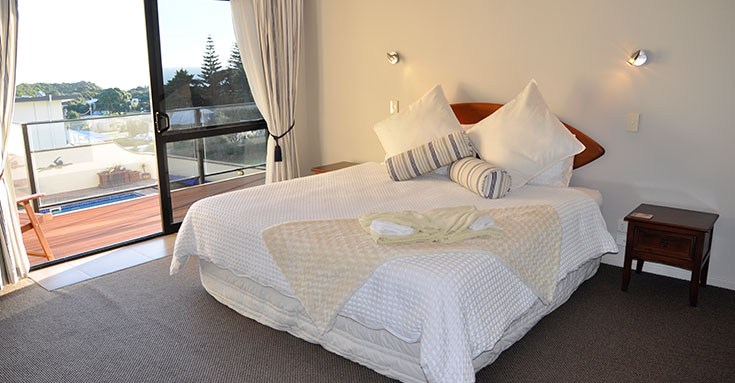 The Tasman Suite​
This suite is located on the top floor and offers panoramic views of the Tasman Sea.
Deluxe spacious room
Super King bed
Modern Ensuite
Rollaway, if needed
Plasma TV, fridge, microwave, tea and coffee making facilities
Comfortable sitting area with coffee table
Glass surround balcony with outdoor table and chairs, overlooking the swimming pool and sea
Designer linen
Dressing gowns
Breakfast Included and free Wi-Fi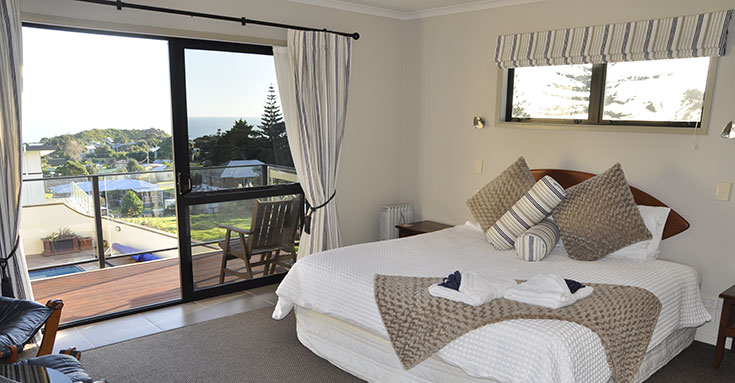 The Sunset Suite​
This suite is located on the top floor and offers panoramic views of the Tasman Sea.
Deluxe spacious room
Modern Ensuite
Super King bed
Glass surround balcony with outdoor table and chairs, overlooking the swimming pool and sea
Plasma TV, fridge, microwave, tea and coffee making facilities
Comfortable sitting area with coffee table
Designer linen
Dressing gowns
Breakfast Included and free Wi-Fi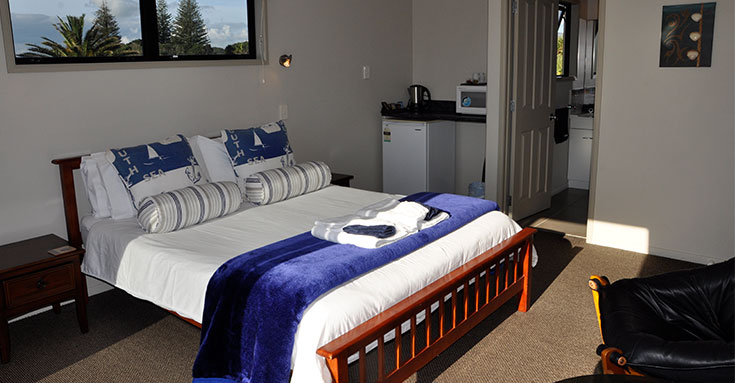 The Surf suite
The Surf Suite is located on the top floor and offers rural and sea views
Quality comfortable room.
Queen Bed
Modern ensuite
Table and chairs on your very own exclusive balcony
Plasma TV, fridge, microwave, tea and coffee making facilities
Comfortable sitting area with coffee table
Breakfast Included and free Wi-Fi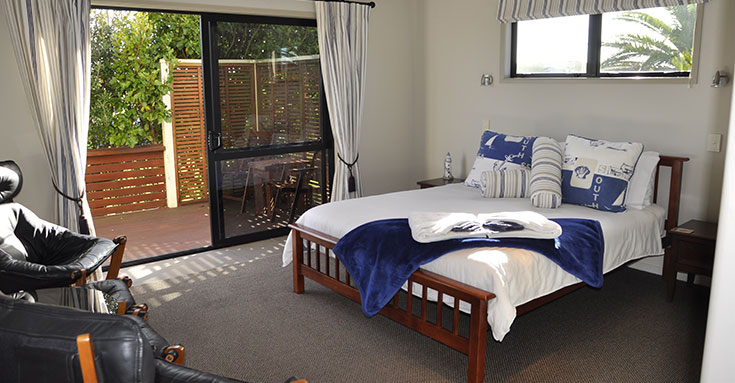 The Lighthouse Suite
The Lighthouse Suite is located on the ground floor with a private deck offering sea and rural views
Quality comfortable room.
Queen Bed
Modern ensuite
Table and chairs on the deck
Plasma TV, fridge, microwave, tea and coffee making facilities
Comfortable sitting area with coffee table
Breakfast Included and free Wi-Fi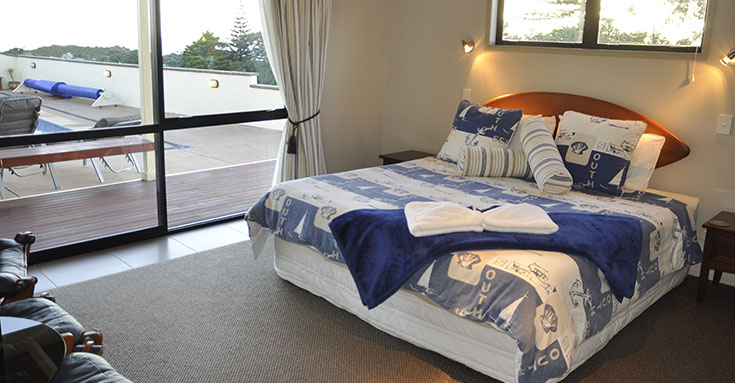 The Shipwreck Suite
This suite is located on the ground floor looking out over the pool, and features:
Quality comfortable room
Super King bed
Modern ensuite
Rollaway, if needed
Deck with seating
Plasma TV, fridge, microwave, tea, coffee making facilities
Comfortable sitting area with coffee table
Breakfast Included and free Wi-Fi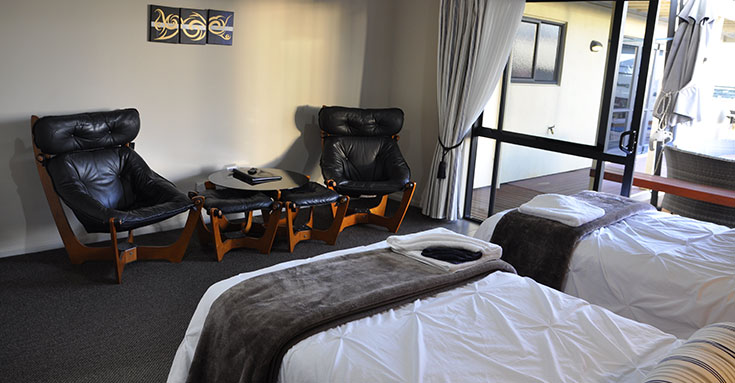 The Seashells Suite
This suite is located on the ground floor looking out over the pool, and features:
Quality comfortable room
Two single beds
Modern ensuite
Rollaway, if needed
Deck with seating
Plasma TV, fridge, microwave, tea, coffee making facilities
Comfortable sitting area
Breakfast Included and free Wi-Fi